Newsfeed
New Affiliate Testimonial

Share This
5BillionSales will change your life
Dołączyłam do programu afiliacyjnego 5BillionSales we wrześniu 2021, w fazie pre-launch. I mogę śmiało powiedzieć, że to była najlepsza decyzja biznesowa w moim życiu. Nie znam prostszego i bardziej dochodowego biznesu, w którym każdy na całym świecie może zarabiać bez inwestycji i bez ryzyka. Wypłaciłam pierwsze prowizje za sprzedaż reklam. Pieniądze znalazły się na moim koncie bankowym w ciągu kilku godzin. Kupiłam reklamy Gwarantowanej Sprzedaży i czekam na dostawę. Jestem ogromnie wdzięczna mojej sponsor za zaproszenie do 5BillionSales. Właśnie spełniam swoje marzenie o prawdziwej wolności finansowej! Jeżeli uwierzysz w ten biznes i poważnie się zaangażujesz, będziesz zaskoczony efektami. 5BillionSales naprawdę zmieni twoje życie! Jestem niesamowicie podekscytowana kolejnymi możliwościami, które dla nas szykuje.
Sky is the limit! I joined the 5BillionSales affiliate program in September 2021, in the pre-launch. And I can confidently say that it was the best business decision of my life. I don't know of a simpler and more profitable business where anyone around the world can make money with no investment and no risk. I was paid my first commissions for selling ads. The money was in my bank account within hours. I bought the Guaranteed Sale ads and am waiting for the delivery. I am extremely grateful to my sponsor for inviting me to 5BillionSales. I am just fulfilling my dream of true financial freedom! If you believe in this business and make a serious commitment, you will be amazed at the results. 5BillionSales will truly change your life! I am incredibly excited about the next opportunities that they have in store for us.
agnieszkabolesta - Poland
New Affiliate Testimonial

Share This
5 BILLION SALES UNE ENORME OPPORTUNITY À NE PAS RATER
5 Billion sales est la meilleure entreprise de notre époque actuelle car elle respecte ses engagements.Depuis que j'ai intégré 5 Billion sales le 10 septembre 2021 ,je croyais toujours à un lendemain meilleur. Toutefois c'était difficile car les gens étaient septiques , d'autres pour me décourager disent que c'est de l'anarque,mais je ne me suis pas découragé en continuant le combat .Au fond je savais que 5 Billion sales est une entreprise noble et merveilleuse avec ces nombreux témoignages . Aujourd'hui je suis le Top Leader de 5 BILLION SALES de mon pays .Je compte davantage gagner tout le pays avec 5 Billion sales. Je suis très heureux des actions de 5 BILLION SALES .Je viens de recevoir mes $ 20 de commission . Bravo à 5 Billion sales pour toutes ses prouesses Grand merci à Madame Inger qui m'a fait connaître le projet. BAHIN GUEASSAI JOEL/ CÔTE D'IVOIRE/ ABIDJAN
bahingueassaijoel - Côte d'Ivoire
New Affiliate Testimonial

Share This
IT'S LIKE CREATING MONEY OUT OF THIN AIR. MAGIC!! SO EASY & FREE
Received my first commission, so simple and turned up in my wallet very quickly. The more I look into this the better it gets. Something that can benefit everyone. Nobody ever says no to more money in their pocket, especially when it's FREE. Love sharing this, it will help so many. I love Passive Income Streams and this one is fabulous. 💰💚
supremecwc - Australia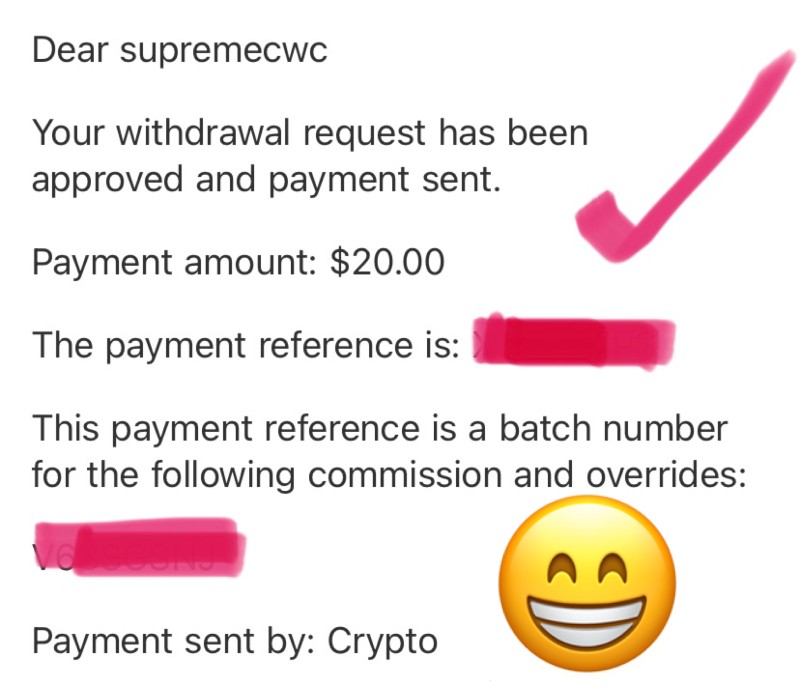 New Affiliate Testimonial

Share This
"THANKS...5BILLION SALES....."
I am SULAIKHA MAMPULLI NHALIL...I am so excited to write my first Testimonial. I got my FIRST Advert comissions of $20 in my bank Account. I joined 5 Billion sales from Pre launch and I am so happy to work with 5 Billion sales. I will most recommended everyone to believe in 5Billionsales and Start Build a Massive team to Create a Passive Income Source. I have already a stong team in my 16 level... Let's hope for the Best. Stay Happy.....Thanks 5billionsales......
sulumnk - India
New Affiliate Testimonial

Share This
I Got Paid!
One of my guaranteed sales ads is in Status 7...well on the way to delivery. I saw money I had earned from affiliates and thought. "Why not take that out?" It was so easy. I received $200, directly to my business bank account. Thank you thank you thank you ❤
shinesg - United States of America
New Guaranteed Sales Testimonial

Share This
5billionsales a great oportonity
I was one of the first lucky ones to sign up As a marketer with the great Five Billion company, despite all the skeptical voices, I had a great feeling that this company is honest and would be a great opportunity for anyone looking for income by working as a referral marketer and selling data and today I managed to get a profit of $40, which leaves no doubt that The company will have a bright future. Do not delay and register with the company as soon as possible
zrebe - Morocco
New Affiliate Testimonial

Share This
Guaranteed sales commission
So happy to be among this amazing opportunity, Join 5billion sales but recruiting wasn't that easy one of my downline bought a guaranteed sales which i was given 20 dollar advert commission which was due for withdrawal. i withdraw into my binance account and it was successfully received.
smartbillion - Nigeria
New Affiliate Testimonial

Share This
$5Billion Pays
$5Billion Sales is for real. I have not paid anything, but have received $120.00 in commission sales. I am from the United States Thanks Lester Armstrong
milliondollar - United States of America
New Affiliate Testimonial

Share This
THE GOLDEN OPPORTUNITY
Wow, I got paid my first $20 payment from 5Billionsales as a commission for an advert paid through my Affiliate Link. I'm so excited for this opportunity of earning cash through the internet. I believe from 25th August 2022, 5billionsales will reduce the hardship in Africa by 50%.
dkofi1 - Ghana
New Affiliate Testimonial

Share This
Schnelle Entscheidung für 5Billion Sales getroffen - Alle Erwartungen wurden erfüllt und sogar übertroffen!
Ich habe mich für 5Billion Sales entschieden, weil dieses Business allen Menschen eine Chance bietet Geld zu verdienen - ohne selbst eine Investition machen zu müssen! Für alle Unternehmer und Werbetreibende schafft 5Billion Sales, mit den "Garantierten Verkäufen", eine Möglichkeit die es so noch nie gab! - Erhalte 155.000 $ zusätzlichen Gewinn! Ich habe selbst zwei Anzeigen für "Garantierten Verkäufe" laufen und konnte schon 5 Kollegen diese großartige Chance weitergeben. Insgesamt erhielt ich von "5B" für diese Empfehlungen 4x20$ Provision. Heute habe ich 2x20$ Provision zur Auszahlung angefordert und diese waren in wenigen Minuten auf meinem Konto! Danke 5Billion Sales für die zuverlässige Arbeit! Ich empfehle allen Menschen und allen Unternehmern - nutzen und vertrauen SIE "5Billion Sales" Friedrich Heck Deutschland
friedrichhk56 - Germany